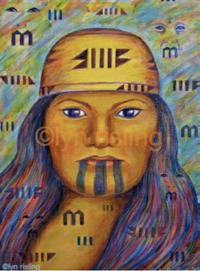 Ayukii Afyiivsha-  
Hello friends
Welcome to my new website!
My art is inspired by my Native cultures of the Karuk, Yurok and Hupa peoples of northwestern California. It is part of a continuum whose roots are strongly connected to the land and heritage of my ancestors. It continues to grow and spiral out and back again, bringing the past, present and future together through new creations of timeless images of color and design.
Check out this site to view what I have been up to with recent and past work as well as exhibitions, events and community projects.